Ship security plan of the m/v "Monchegorsk"
23.07.2008
On the 23 of July 2008 "RMSS" approved the ship security plan for the m/v "Moncegorsk" developed by JSC "Transas Consulting".
     The m/v "Monchegorsk" was built on the shipyard "Aker Yards" in Germany and is the second ship of the "Norilsk Nickel" series.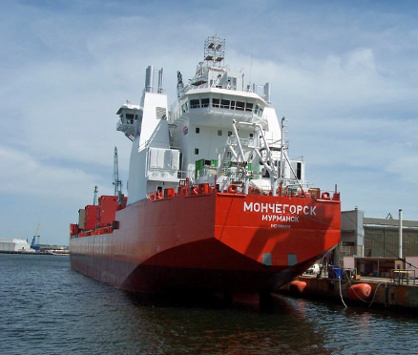 This series of ships is universal because they can provide regular cargo shipments in the western region of the Arctic during the whole year without the assistance of icebreakers.
     In order to ensure nonstop transportation of goods between Taymyr, Kolskiy peninsula and European ports normally 8 container ships are needed, but "Norilsk Nickel" in accordance with their concept of logistic optimization decided to use only 5 but unique ships, which will operate on the following routes: Murmansk-Dudinka-Murmansk and Archangelsk-Dudinka-Archangelsk.
    The length of the ships is around 170 m., width 23 m., draft 9 m., deadweight 14,5 thousand tons. The speed in light ice conditions (less than 1m.)is 10-12 knots, in heavy ice conditions (from 1,7 m) - 2-4 knots.

« Back